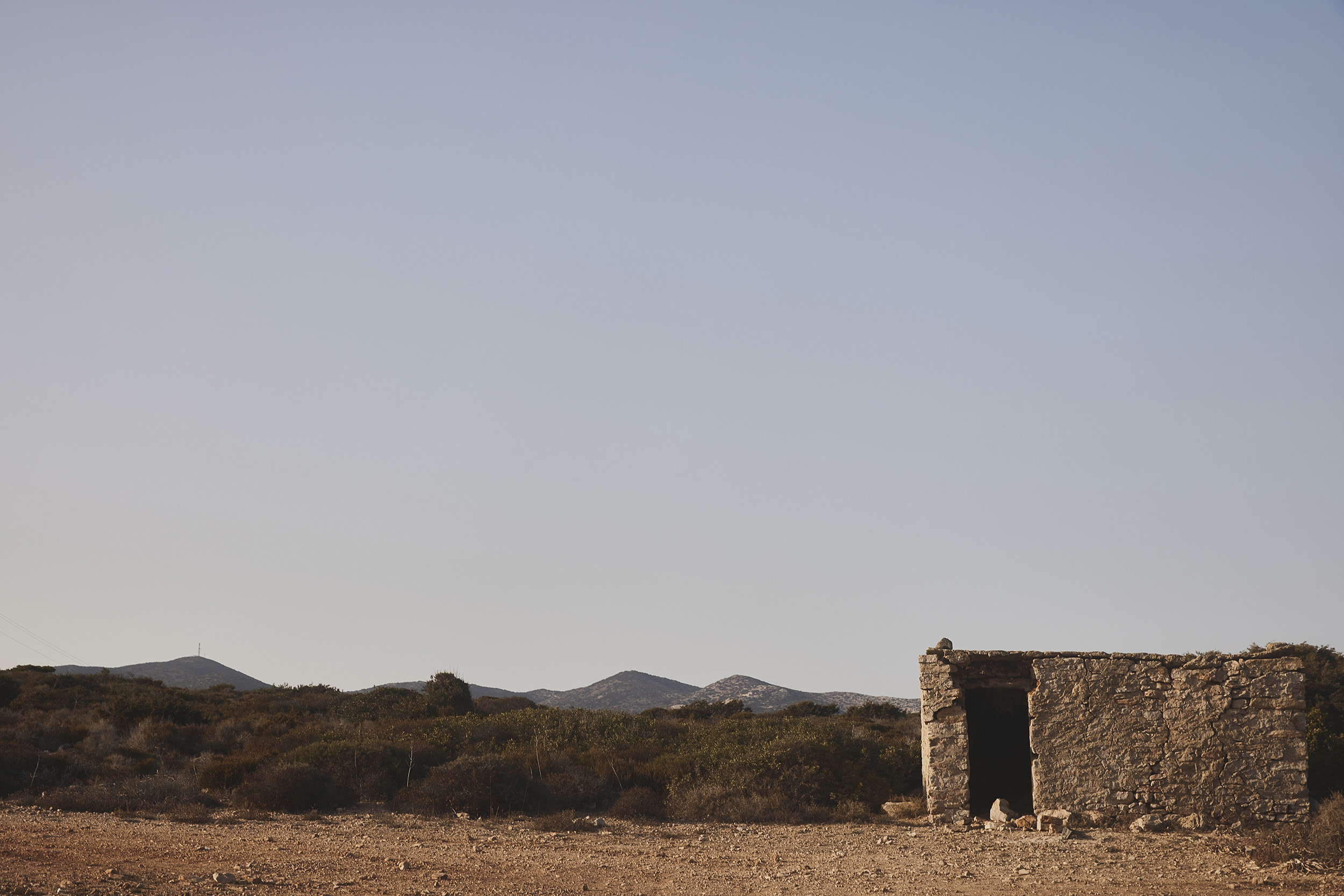 THE ART OF MAKING A HOME


ANTIPAROS ISLAND, GREECE | 1-4 July 2022



The Place
Antiparos is a small and wild island in the southern Aegean, at the heart of the Cyclades. Narrow cobbled stone alleys and streets, white-washed houses decorated with thriving pink bougainvillaeas create this enchanting atmosphere in Antiparos town. The unspoilt beaches, hidden behind the rocks and sand dunes will make you think you have found Eden on earth.
Another Island is a collection of five uniquely restored homes at the top of Agios Georgios hill, overlooking Despotiko island, the Ancient Sanctuary of Apollo and the entire Southern Aegean archipelago. The warm and natural environment found in all five homes and the surroundings allows you to slow down and unwind. This little gem inspired us in so many ways that we found ourselves dreaming of hosting our workshops there with people from all over the world who would like to join our gatherings. A place so calming and inspiring that it whispers to you to "pause" from the outside world. We found a home away from home and it just felt right to create this experience in this unique location.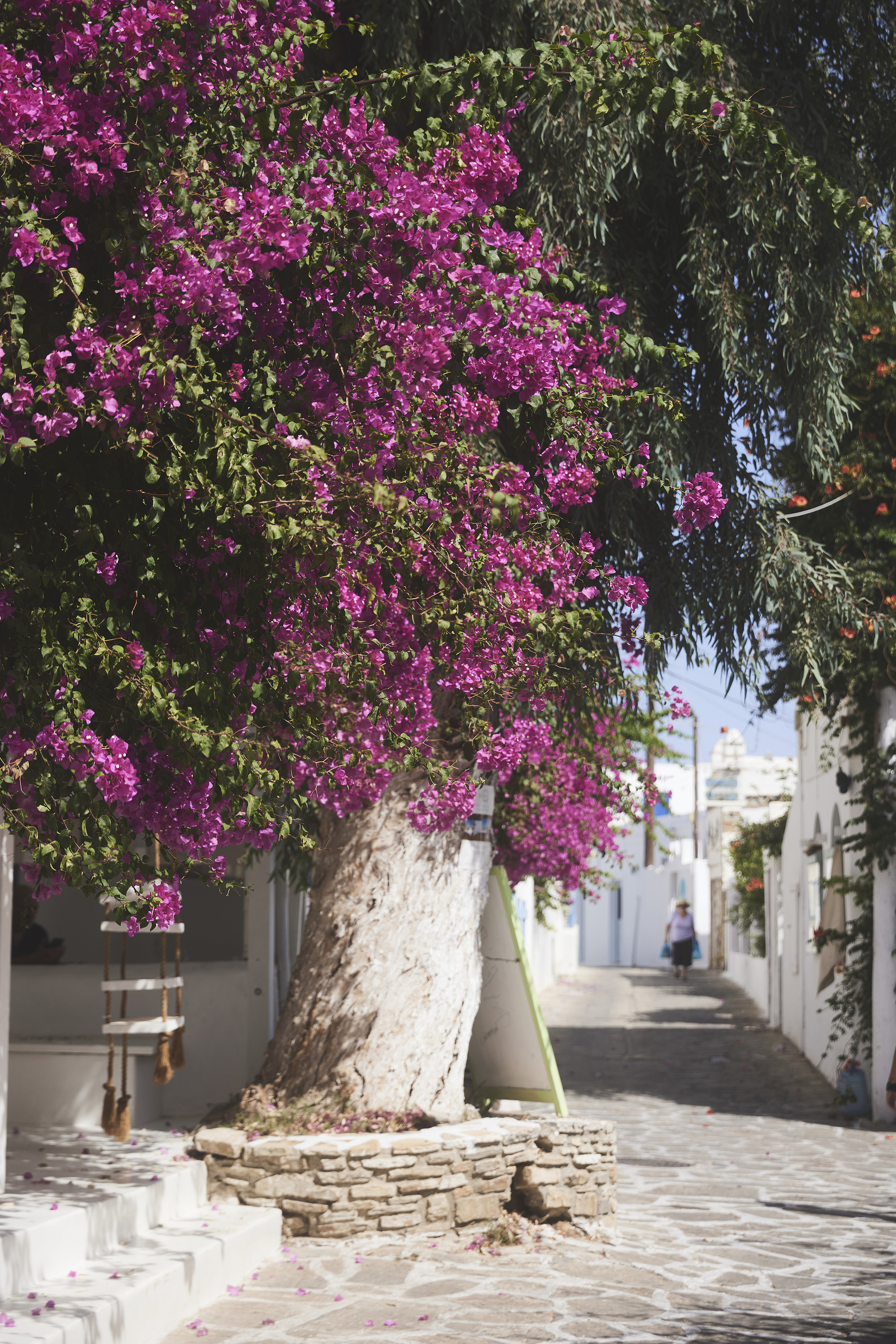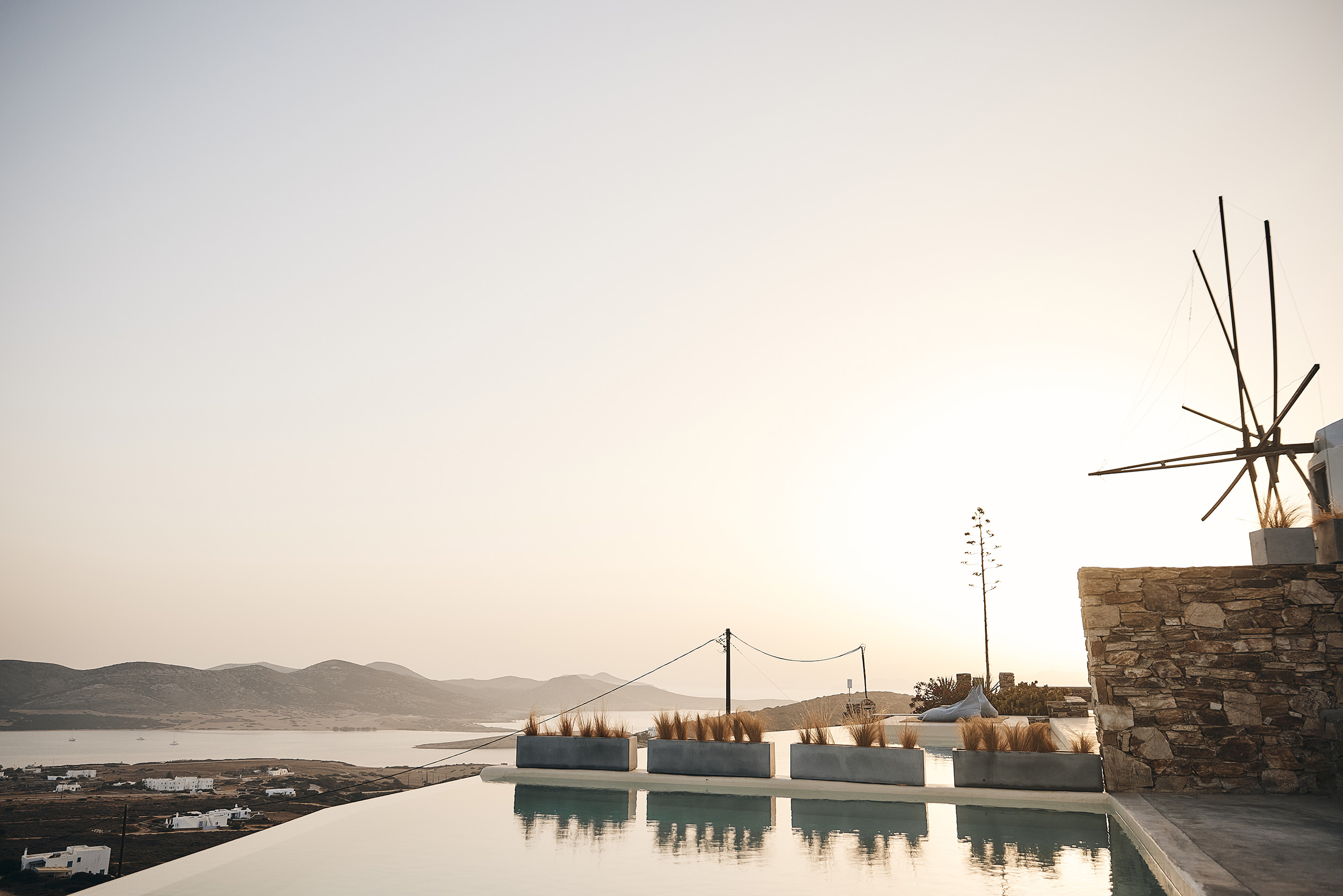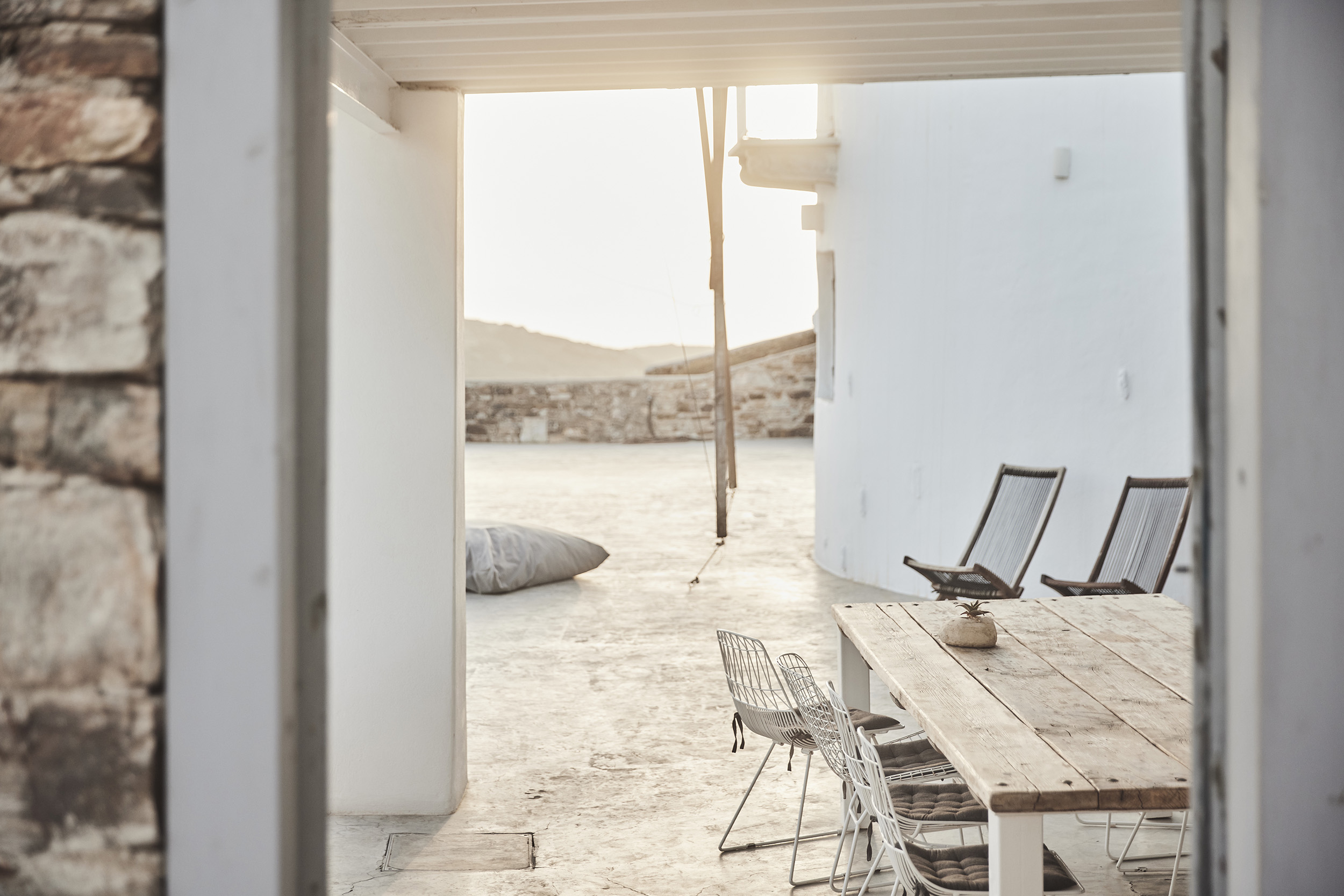 When
1st-4th of July 2022, 4 days and 3 nights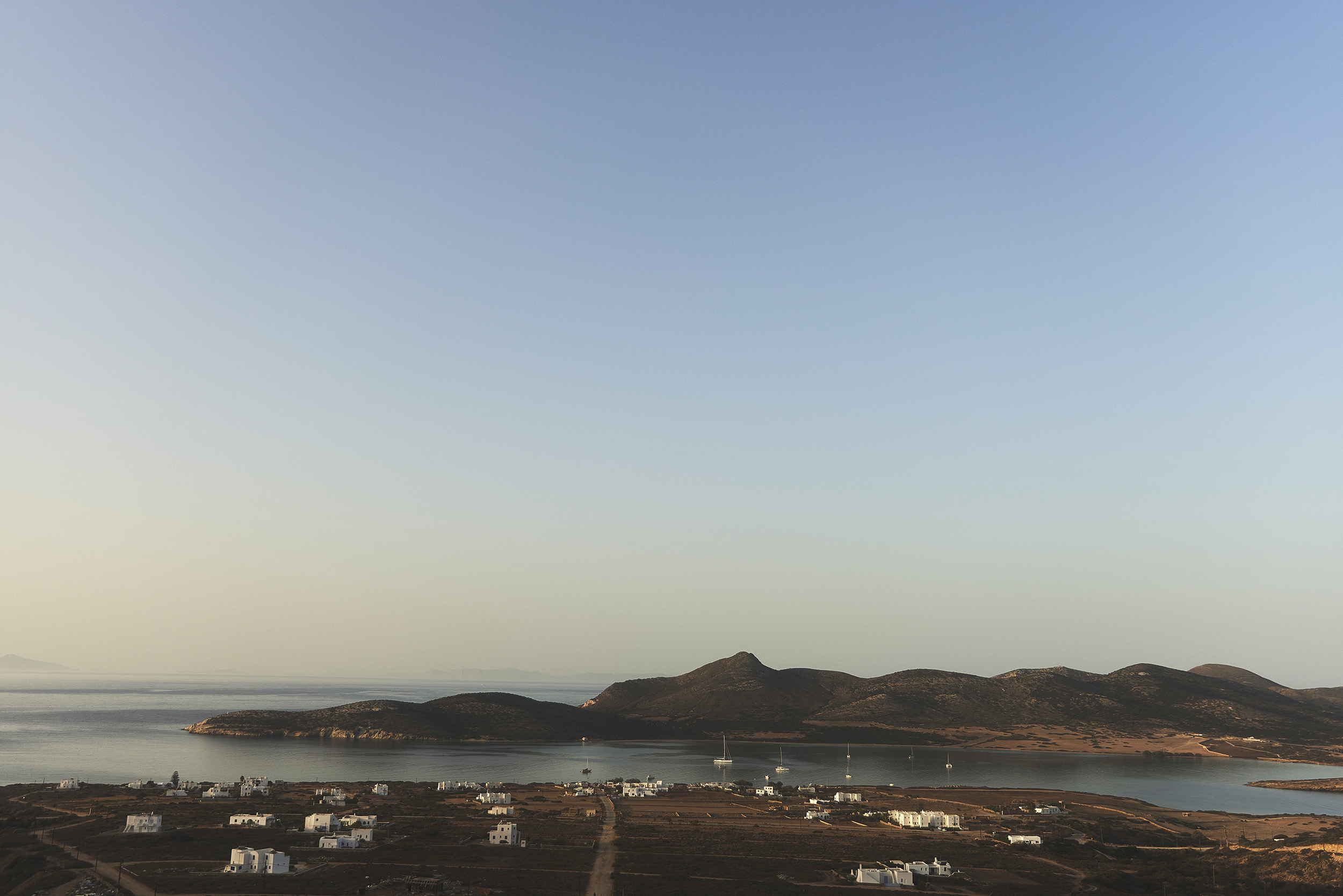 Who
For anyone who wants to explore and understand deeply the " meaning of home". Our aim is to create a multi-sensory experience around home through food, meditation, breathing, yoga and photography.
During our workshops, we will create your "home book". A reflection of your personal story, the history of your home. A timeless memoir of your retreat, your personal way of living. A true gift to yourself, a place where you can always return to.
For anyone who loves exploring the idea of making a house a home. If you enjoy listening to other people's home stories to find inspiration and connection. If you want to create the atmosphere of your home and explore the messages behind your choices. If you find it hard to connect with your space or even yourself. If you want to create a home within you, a safe place in any part of the world, then we can welcome you in our workshop.
Your home book will be collected, printed and sent to you a few weeks after our retreat.
It is also for everyone feeling inspired by the Aegean light, who loves travelling, connecting with like-minded people. We will cook and share our stories around the table while exploring our senses through food and wine. We will discover another way of living or a different home experience.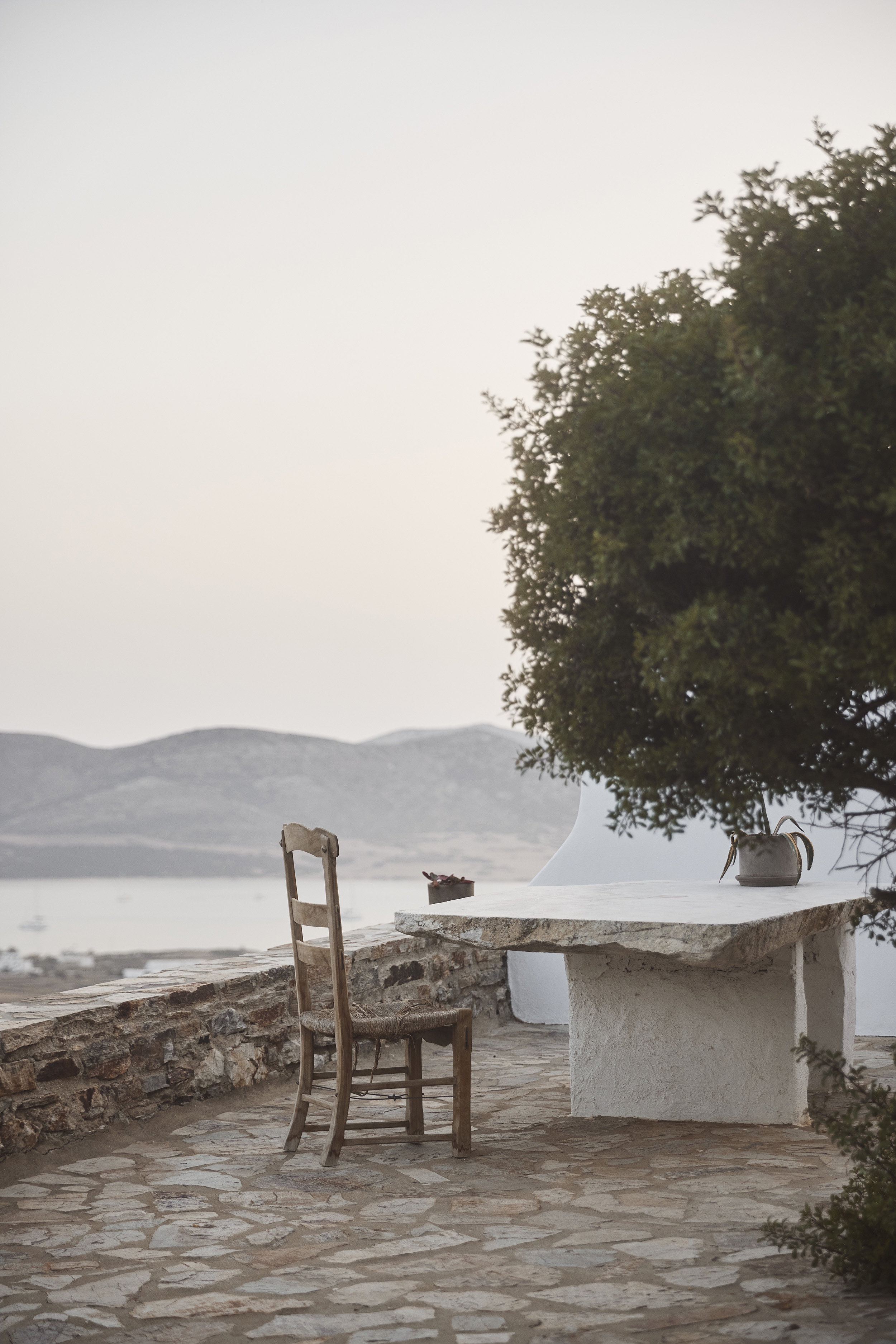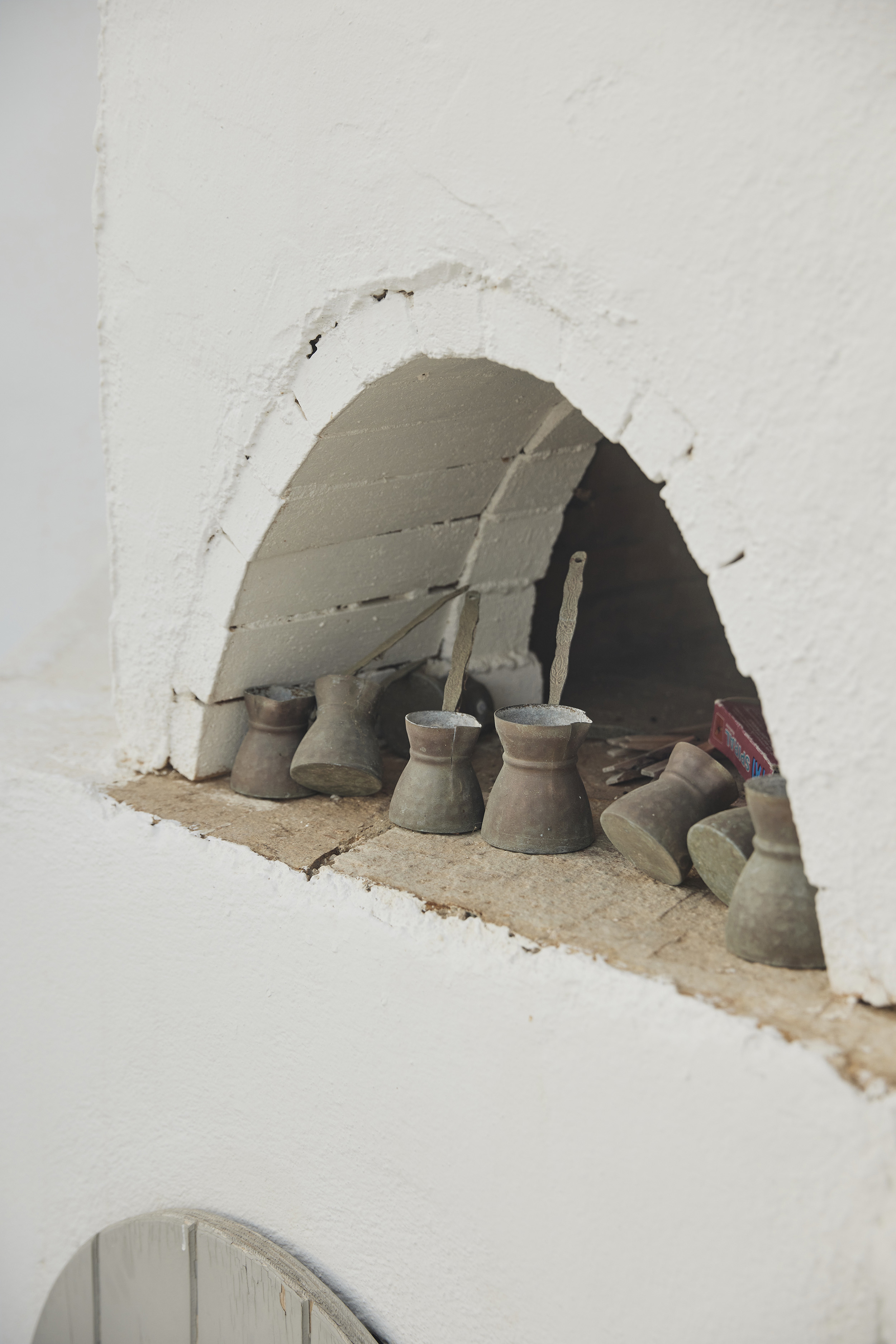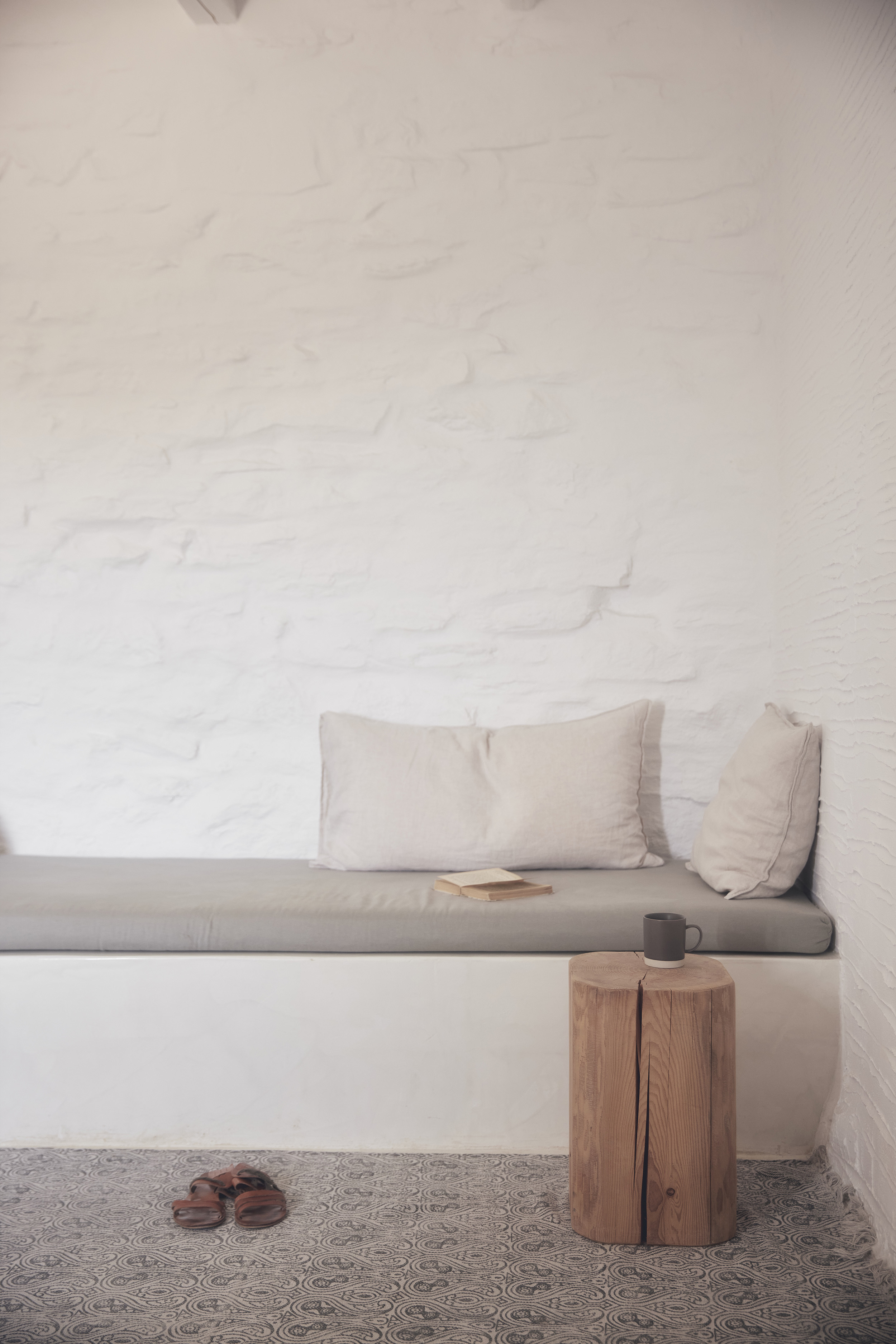 Activities

We will travel to Despotiko, the Doric Archaic temple of Apollo, to admire its open-air museum and enjoy some of its many wonderful sandy beaches. Despotiko today is a tranquil, unspoiled island where nature and history coexist. We will go swimming on the most beautiful hidden beaches. We will watch the sunrise from Another Island's lounge area while meditating and doing yoga with Nora. She will bring us back home to our bodies. We will do some styling, finding the beauty around us. We will do cooking lessons with George and local people while embracing their gastronomy always in tune with the seasons. A wine tasting experience with George that you will truly remember.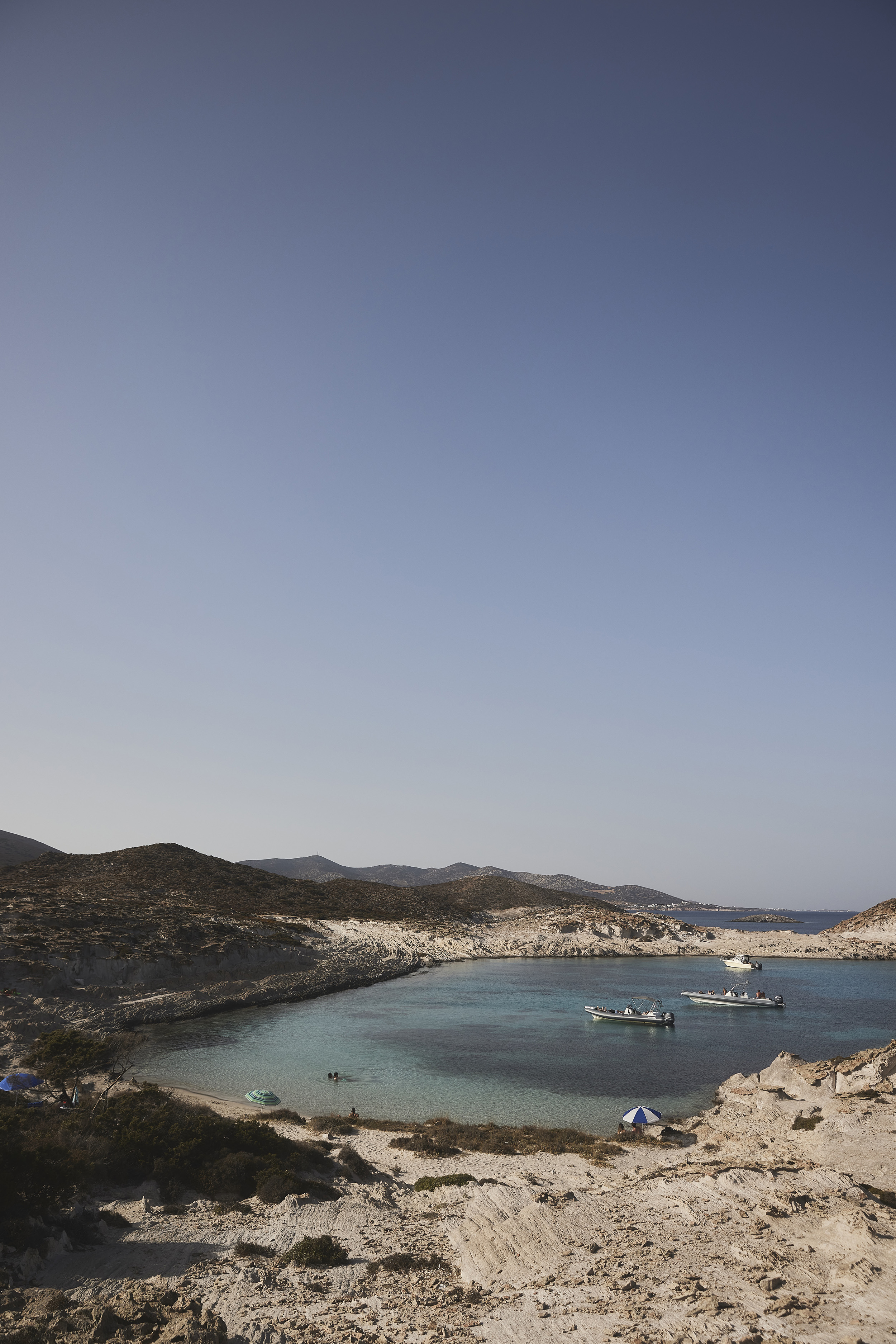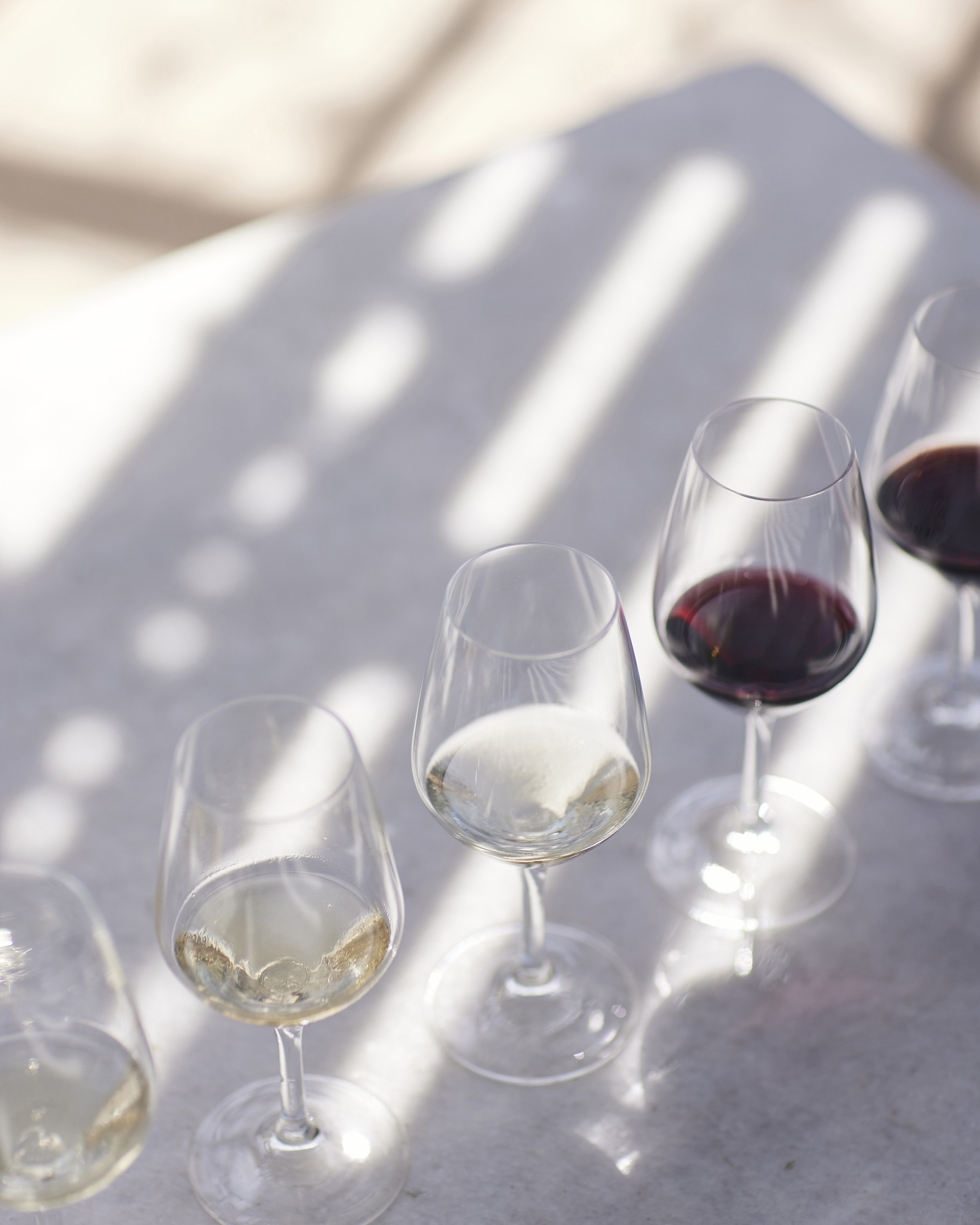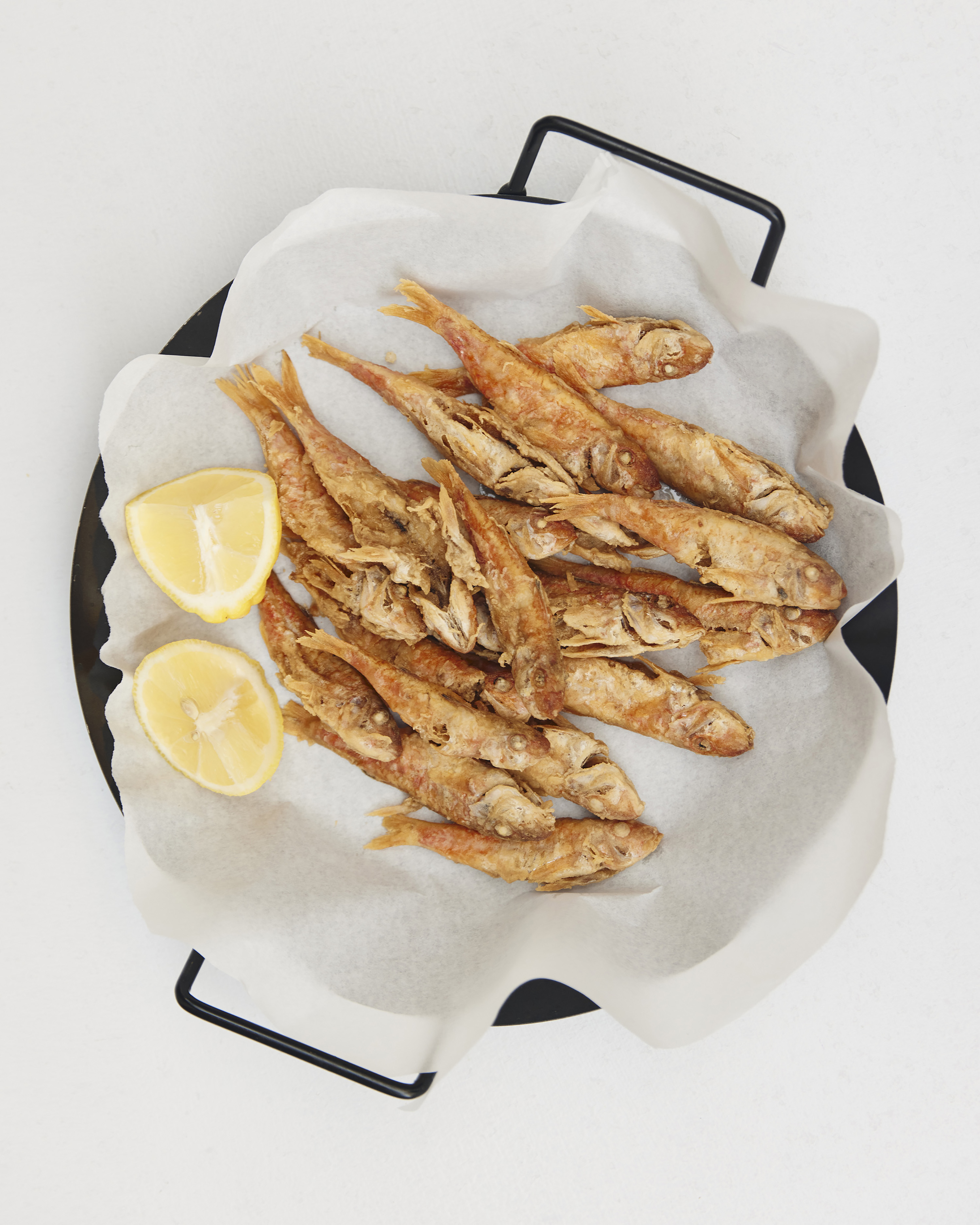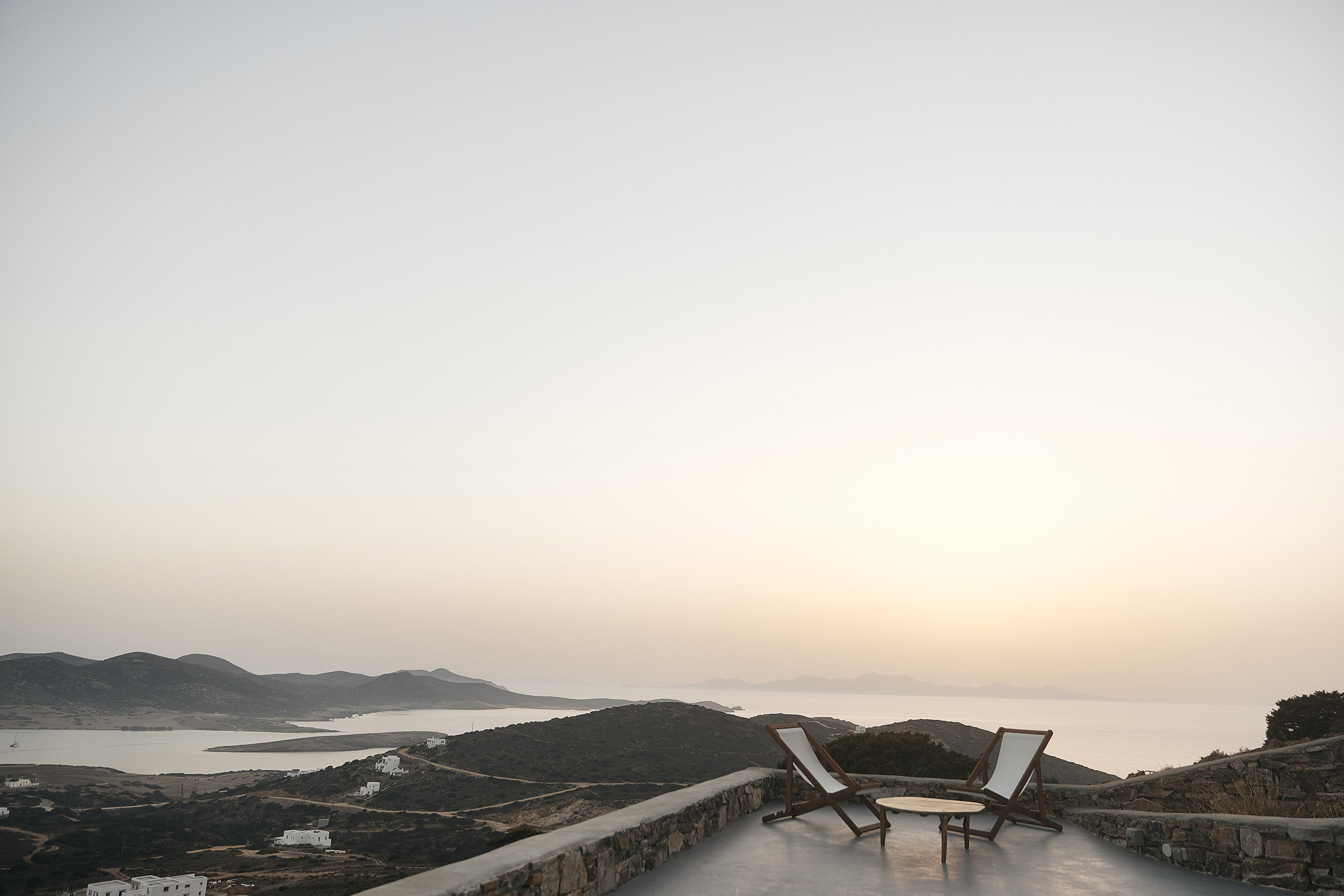 The People


Argyro Vlachou

Interior Designer, founder of Studio Cord, London

Argy lives in a quiet little village in the English countryside with her 2 kids and her husband George. After completing several projects in London and Greece, she has found a more genuine, a deeper meaning of the idea of "home" and how it affects our life and wellbeing. She has hosted many workshops on how to create an environment that appeals to our senses, using our roots, our memories and our own personal story.
Argy will provide our guests with all the tools in order to create their personal " home book ". A unique journey to their sanctuary, a place they will cherish forever. You will also be invited to listen to her story of how she created her home when she left Greece 7 years ago to live in London. She created a place to belong; an authentic place always connected to her memories, her culture and her roots.
Getting to know her :
www.studiocord.co.uk I @argyrovlachou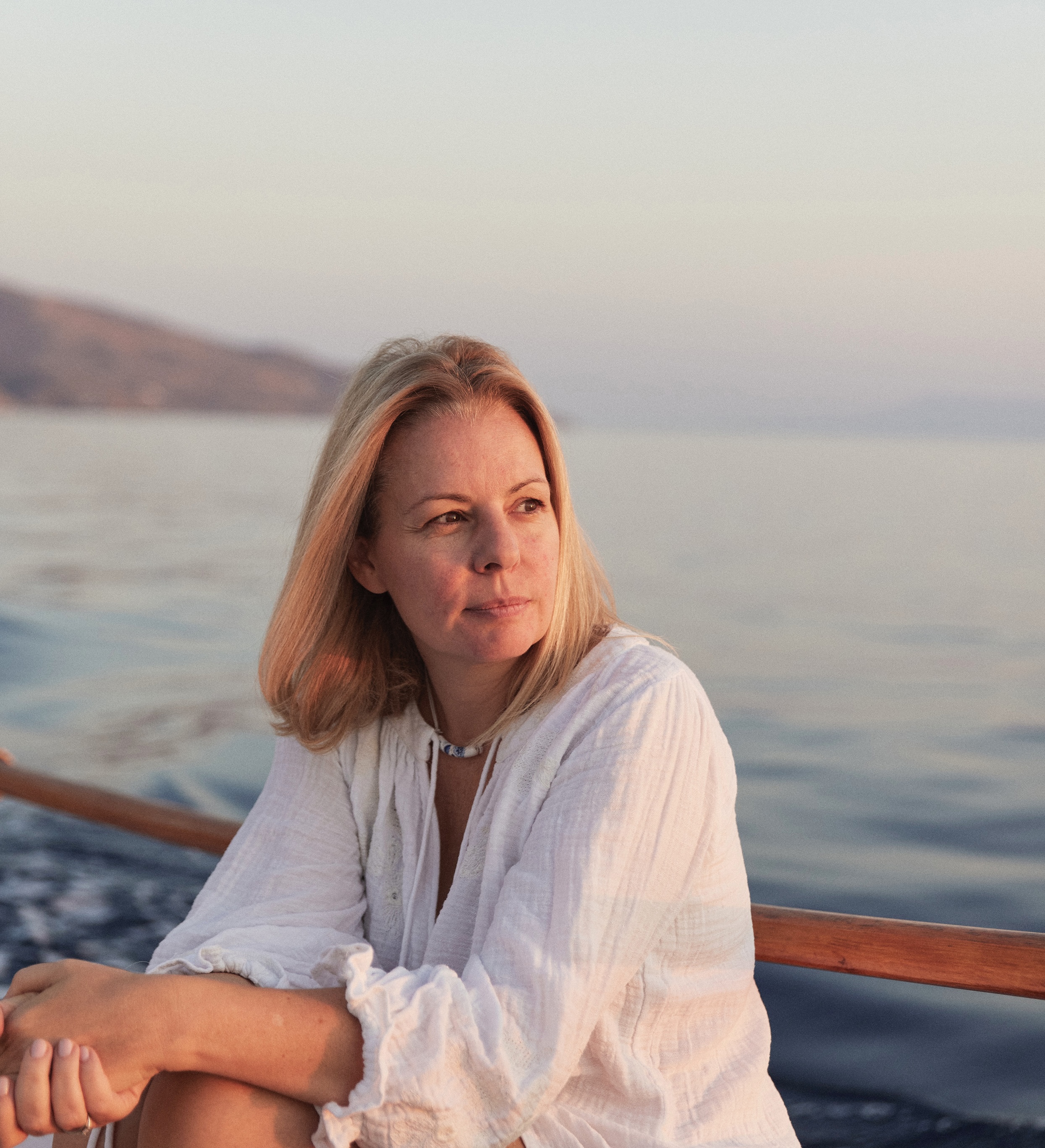 George Nyfoudis
Chef, Co-founder of The Life Goddess Restaurant, London
George is a chef and the co-founder of 2 restaurants in London. He lives with his wife Argy and their two children in the English countryside. He is passionate about soulful food as he looks back on his grandmother's kitchen where he spent most of his time while growing up in Greece. George will take us on a journey to his childhood recipes; the place he always feels at home. His personal stories, all the things that gave him memory, his guidance to this endless gastronomic journey.
For our dinners, he will use the local produce and he will find inspiration in the regional history. Cooking with local people, revealing all the smells, tastes and embracing the uniqueness of the island, will help us create an unforgettable sen sual journey, a feast for the senses.
Getting to know him :
www.thelifegoddess.com I @the_life_goddess_store_street
Nora Brookfield
Yoga therapist, Charlottesville, Virginia, USA
Nora Brookfield is dedicated to bringing the power of embodied practices to help people find a more vibrant, easeful, and creative way to live in the world. Nora is a certified Yoga Therapist, a RYT 200 (Registered Yoga Teacher), and has been practicing yoga for 25 years. She has a somatic therapy private practice, and has been leading therapeutic yoga classes for health care workers at the UVA hospital and for business leaders in UVA's Darden Executive program. Nora lives in Charlottesville, Virginia (USA), has three children, a partner, and two dogs who keep her real daily as she (many times unsuccessfully) practices being the sky, not the weather.
During this Antiparos retreat, getting in touch with your inner landscape may enhance your experience of creating harmonious home landscapes with Argy. In Nora's yoga classes, you can discover your body intelligence as you learn to stay present, feel the sensations in your body, and focus on your breath. After practicing compassionate present-centered mindfulness in a yoga session, you may more easily envision peaceful, meaningful environments with Argy. Nora will introduce guided meditation, breathwork, and yoga poses that are accessible to all bodies, and to people who have never practiced yoga or meditated.
Getting to know her :
https://www.norabrookfieldsomatictherapy.com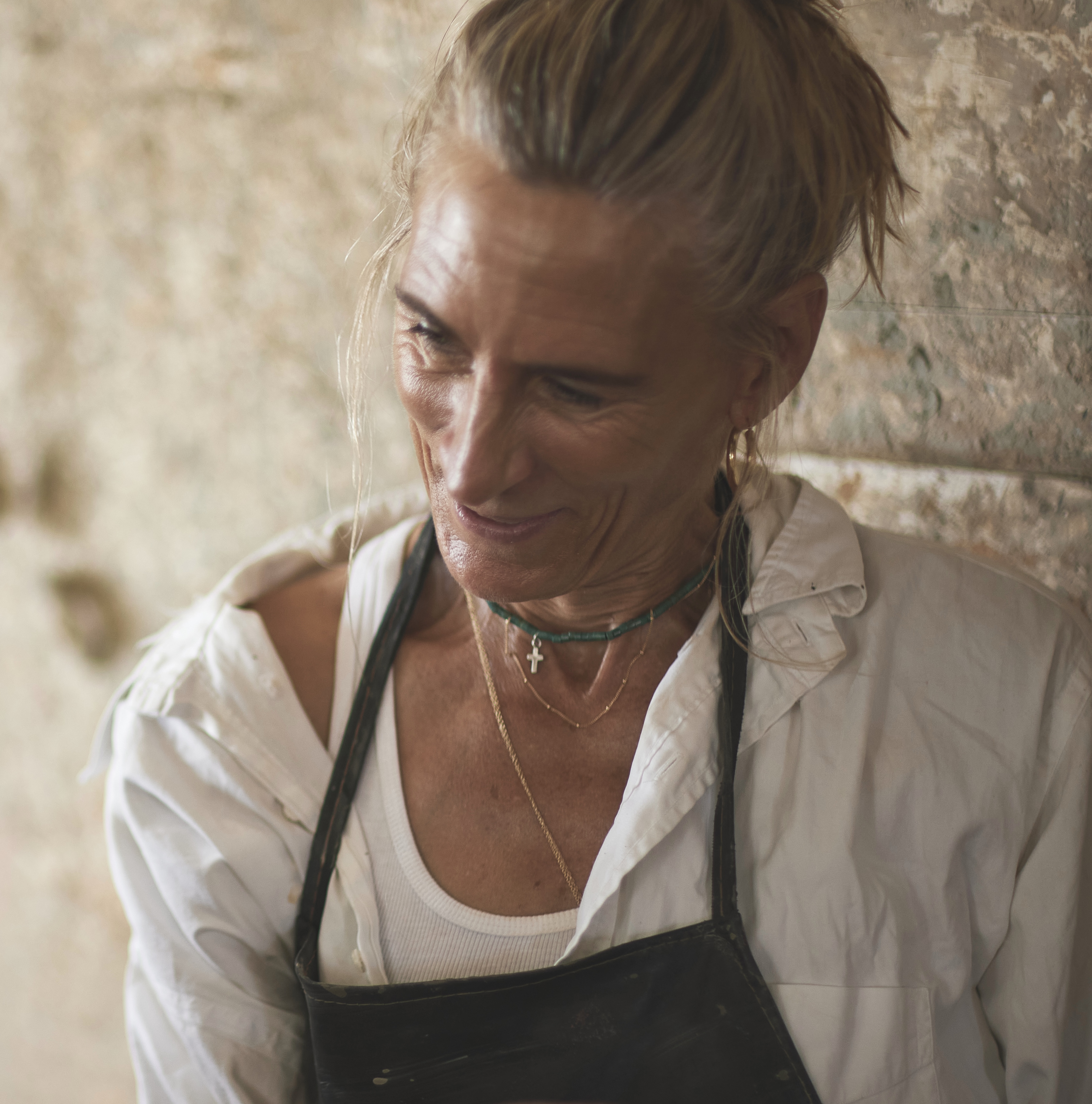 Our Host


Philip is the 'accidental' co-owner of Another Island. During the summer of 2016, at a time of personal turmoil, he was hosted by his high-school friend Marios in an apartment with a picture-perfect view to the Agios Georgios bay. He instantly felt at home. By that September, he decided to partner with Marios and restore five breathtaking, yet crumbling homes overlooking the southern Aegean Sea.
However, the pull of Antiparos proved too strong; a few months later he decided to leave a familiar corporate role for an entrepreneurial path, something that had always terrified him; it was the best decision he ever made.
Philip loves being a host, making his guests feel welcome, comfortable and safe; he is also a bit of a nerd; measuring, quantifying,,optimizing and planning ahead. Together with Marios and lead designer Nansy, they like to think of themselves as movie directors, setting the scene for their guests to create great memories. In one case, Philip took this role very personally. For three nights in July 2018, some Austrian friends stayed at Another Island. Almost like a fairy tale, Elida and Philip instantly connected; they are now married and, together with their son Luca Zayn and Philip's daughter Marielena, live between Athens, Vienna and Antiparos.
Through our workshop, Philip will share his story on how he found his home at Another Island.
Getting to know him:
https://www.another-island.com | @anotherisland_antiparos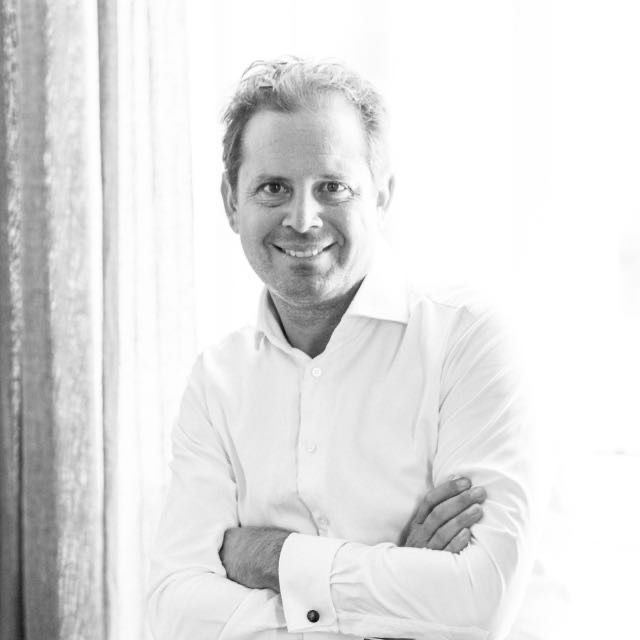 PLAN

DAY 1 – Friday 1st July 2022

2.00pm - Arrivals, Welcome
4.00pm - Workshop - Introduction to the idea of home with Argy
7.30pm - Sunset while Meditating, Breathing and Yoga with Nora
9.00pm - Welcome Dinner by George

DAY 2 – Saturday 2nd July 2022
6.30am - Sunrise while meditating, breathing and yoga with Nora
8.30am - Breakfast
10.30am - Visit Despotiko, swim, explore hidden beaches by the boat, lunch
3.00pm - Rest, free time
4.30pm - Workshop with Argy - We will create your home book
8.30pm - Cooking altogether with George, wine tasting experience

DAY 3– Sunday 3rd July 2022

8.30am - Breakfast
10.00am - Workshop with Argy - styling, finding the beauty around us.
1.00pm - Cooking lesson with George and local chef to embrace the Cycladic gastronomy
3.00pm - Rest, free time
6.00pm - Drive at the beach for swimming. Sunset while Meditating, Breathing, doing Yoga with Nora. Connecting with our inner home.
9.00pm - Walk to the town, stroll around beautiful little paths that lead to the old castle. Dinner out to a local tavern

DAY 4– Monday 4th July 2022
8.30am - Breakfast
10.00am - Gather to connect all together - experience
12.00pm - Saying goodbye, till next time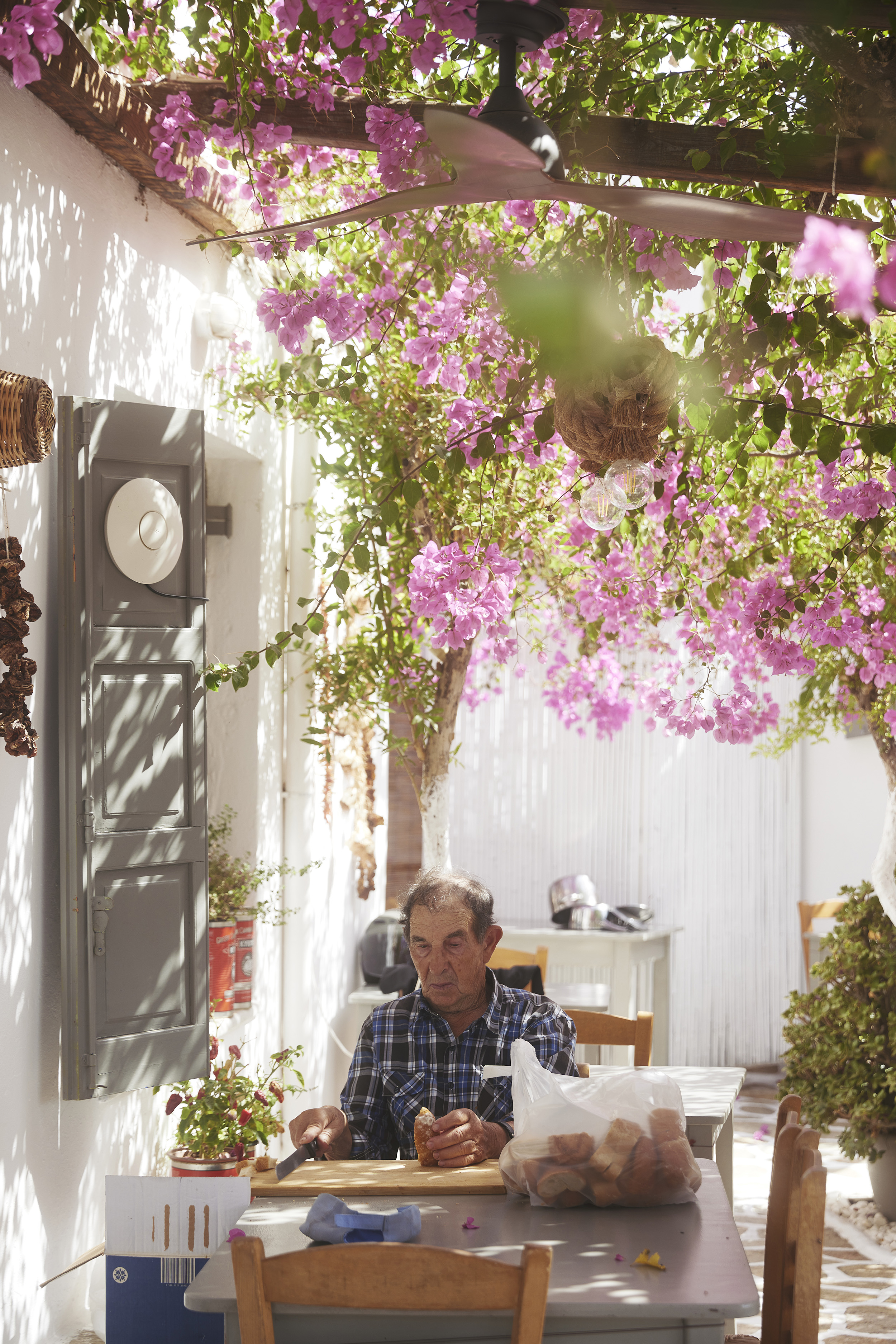 COST
£ 2.500 per person. Accomodation, all meals, drinks, activities, classes included. All 4 houses sleep 2-4 people. You will be required to select your desired room when reserving a spot in the workshop.
Transport, travel expenses are not included.

If you wish to bring a partner, friend or family member who wants to join you but not for the workshop about home, you can do so at a reduced rate while sharing a room. The reduced rate of shared accommodation, includes all meals, drinks, cooking lessons and activities.
For the bank details contact me at info@studiocord.co.uk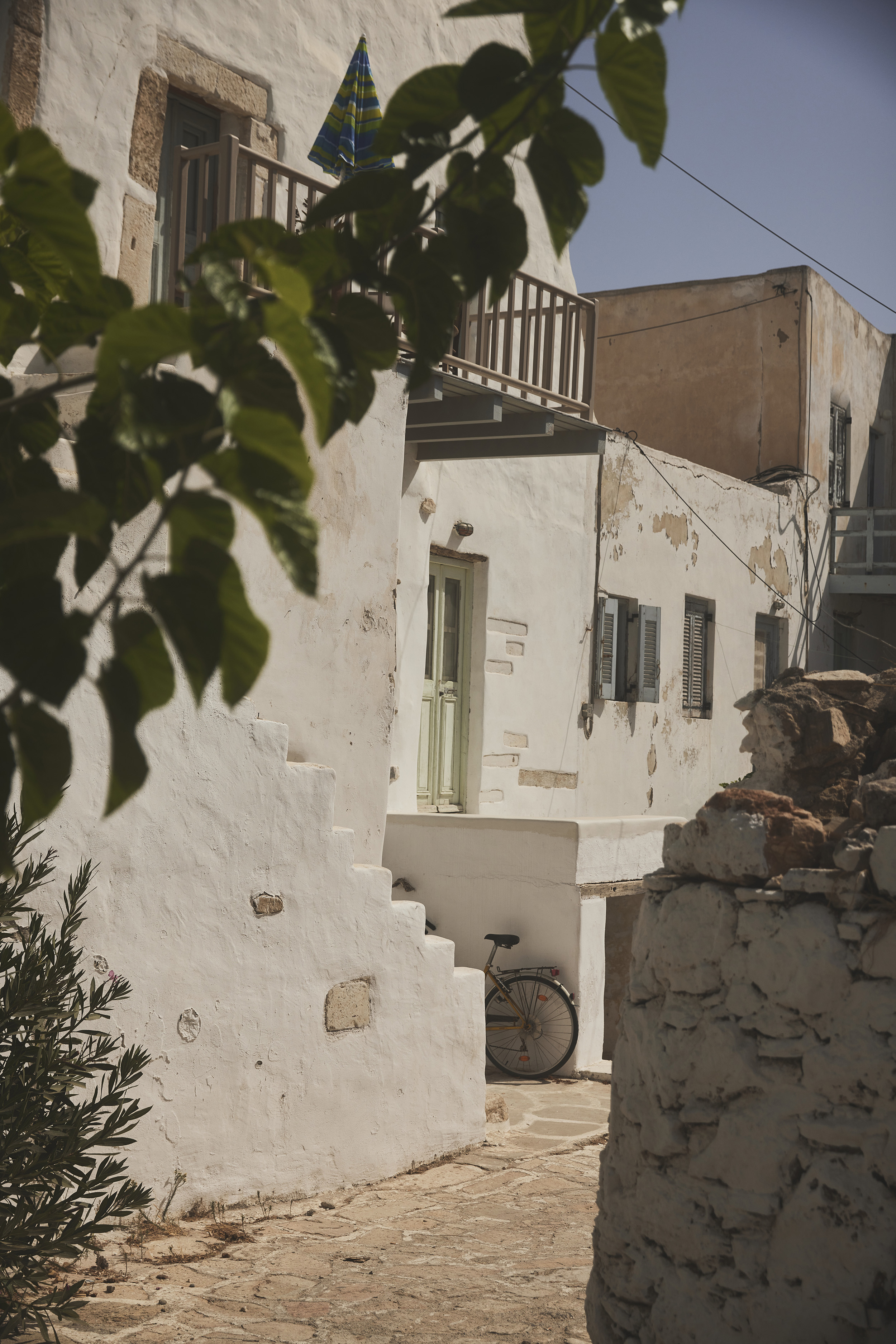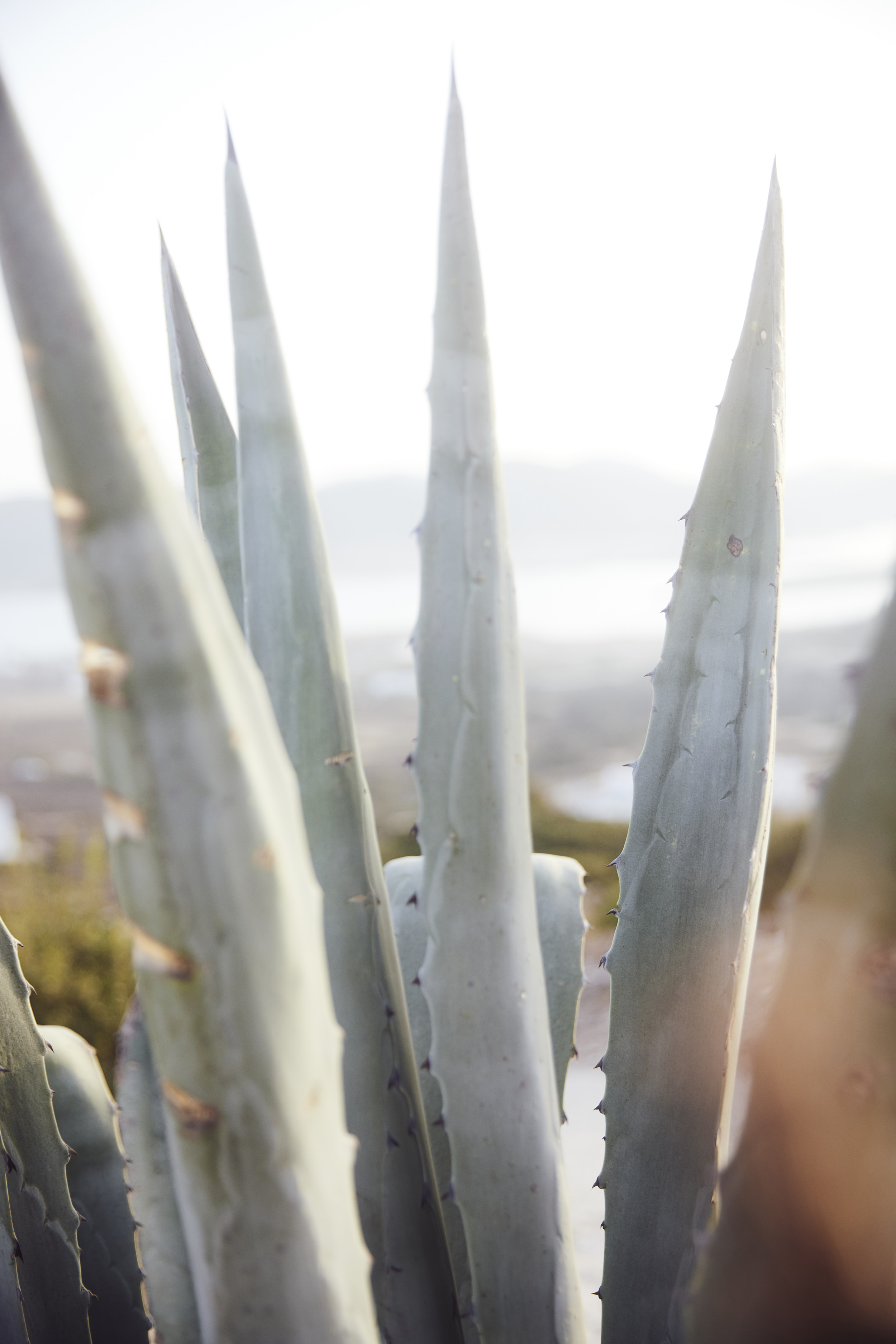 CANCELLATION POLICY
Please note that all deposits are non-refundable. However, if something prevents you from attending the workshop you booked, we would be glad to find other dates that work for you in the future. Travel insurance ( highly recommend )
Feel free to contact us at info@studiocord.co.uk if you like to book your spot. We are more than happy to give you further information about the retreat.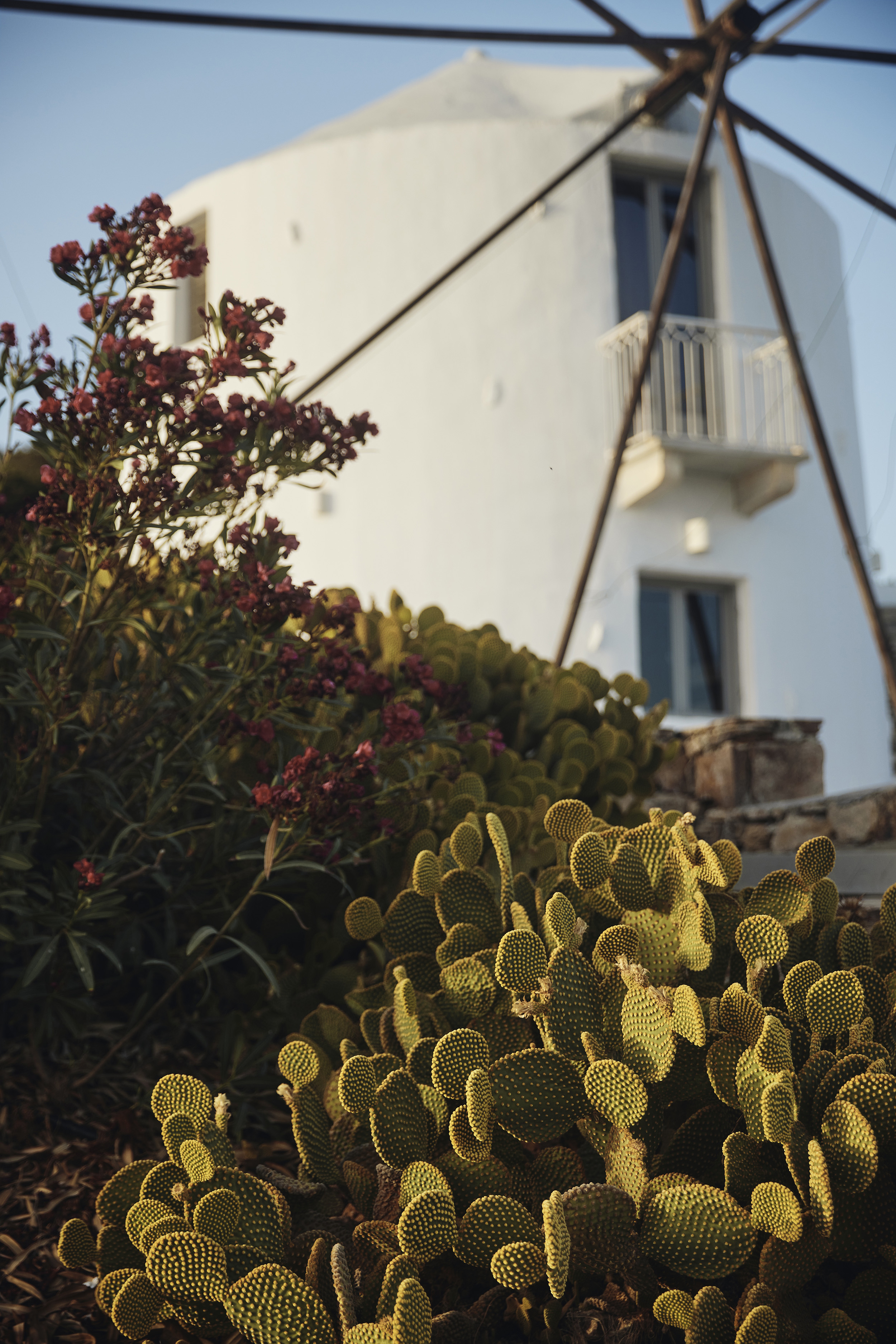 IMPORTANT
When reserve your spot, you will receive a confirmation email, and a more detailed schedule will arrive in your mailbox closer to the retreat date.
You can visit Another Island's website here https://www.another-island.com for location information etc.
You can book your flights to Paros. If you're traveling to Paros from Athens you can catch a ferry from Piraeus, Lavrio and Rafina. To arrive to Antiparos you need to catch a ferry from Pounta Port in Paros.
You will need to rent a car for travelling to Antiparos and for driving to beaches, town etc.
Food and drinks are provided for breakfast, lunch, and dinner.
There are 12 spots availiable.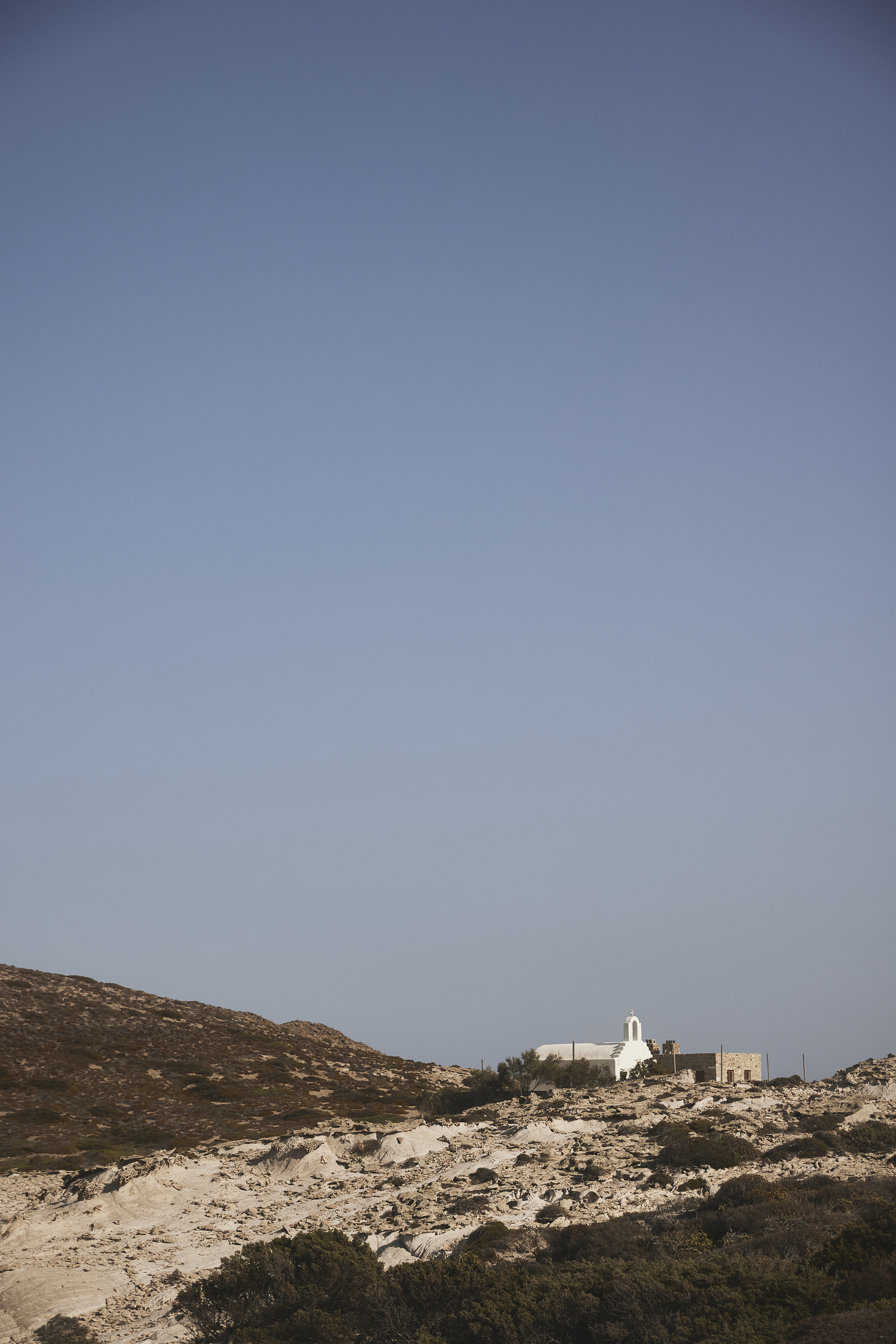 Edit Page